The Yorkshire Wheel
WELCOME to this site all about the Yorkshire Wheel. There are videos of the wheel being constructed and tested, as well as a Construction Gallery of photos of the wheel being put up from start to finish. Don't miss "The View" section where you can see videos and photos of what it's like to ride on the wheel. Hover your mouse over the menu at the top of the page to get a full description. Opening times and admission charges are at the bottom of this page.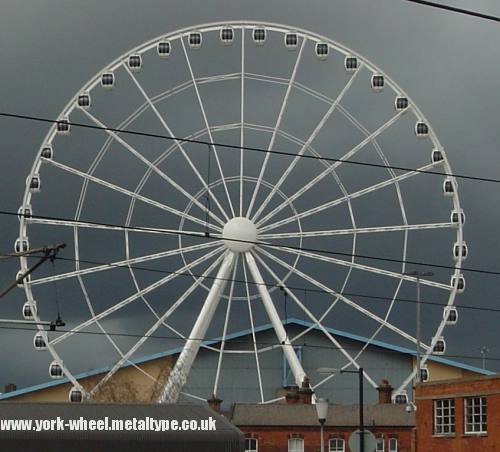 April 8th, 2006 — COMPLETE! Pictured from York railway station against a dramatic stormy sky, the Yorkshire Wheel at the National Railway Museum in York is complete
YORK finally gets its own big wheel.
Following the success of wheels at London, Manchester and Birmingham it's now York's turn to take one for a spin.
The wheel is almost as high as York Minster - so the views across the city are excellent - without having to climb all those dusty old stairs!
Construction started in the last week of March 2006 and the wheel opened to the public on April 12.
The wheel is sited a little off the beaten track in the Leeman Road area of the city (a previous application to construct it near to the historical Clifford's Tower was rejected by the City Council).
The new site is in the grounds of the National Railway Museum, which is very easily reached from the railway station since the footbridge was extended (follow the signs for the Railway Museum).
The structure is 54 metres high, has a diameter of 50 metres, and weighs 365 tonnes. It has 54 climate-controlled pods each holding up to eight people at a time. There is also a VIP pod with a leather interior, DVD sound system, phone and fridge for the Champagne! The ride on the wheel will last approximately 13 minutes.
The wheel, which cost £3 million pounds, is operated by World Tourist Attractions who claimed that it could bring up to 30 jobs and a million tourists to the city.
The Yorkshire Wheel is now Closed
The Yorkshire Wheel closed for business on November 2 2008.